Covid-19 Resources
Attention Guilford Businesses and Non-Profits:
Our PPE starter kits are ready to go! They contain hand sanitizer, masks, gloves, a spray bottle of disinfectant that can be used on hands as a sanitizer or as a sanitizer for solid and soft surfaces, a floor sticker to encourage social distancing and a door sign encouraging the same. Need more of something? Just ask and we will toss them in for you. Kits can be picked up during town office business hours. Need something else that's not in the kit? Please email info@townofguilford.com and we can explore your needs with you.  This is all made possible by the Keep Maine Healthy Grant. 
Moving Maine Forward: A Plan to Protect Public Health and Support Maine's Economy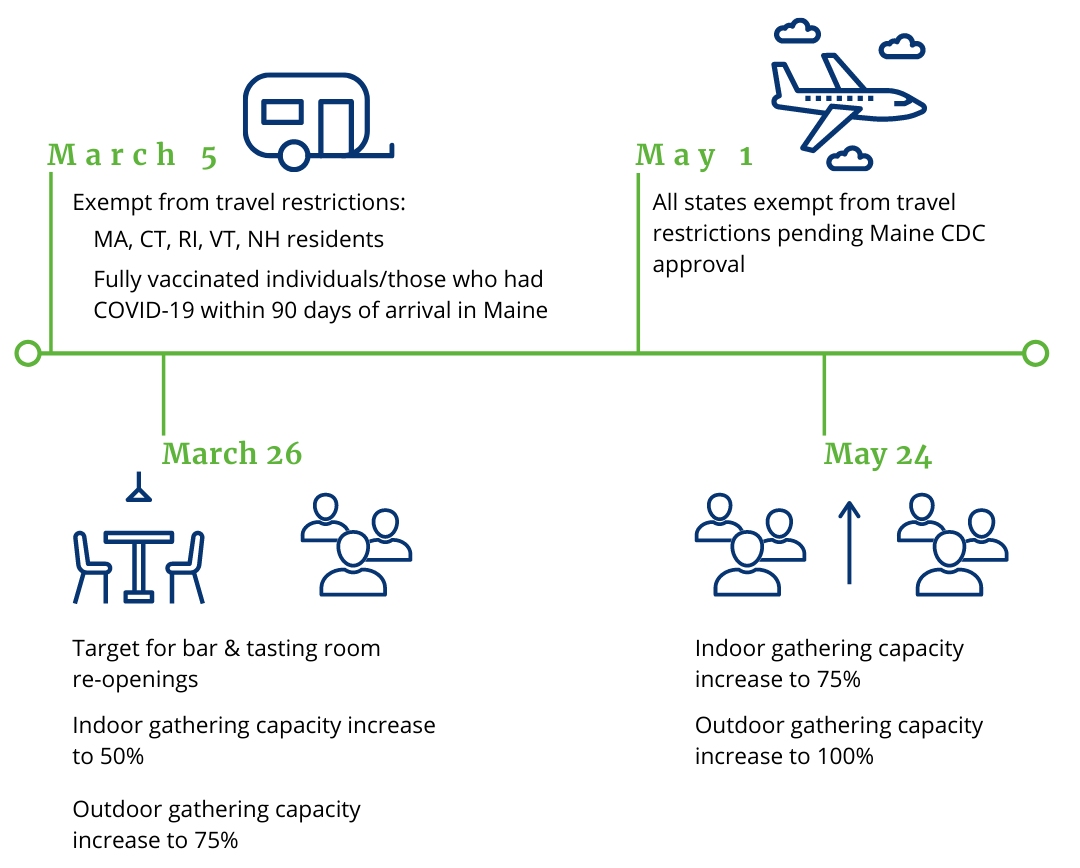 FREE Training Resources:
For information on reopening your business please follow these checklists and guidance:
Helpful Links from DECD:
THE PLEDGE TO PROTECT ME OFFERS ONLINE VERSION OF THE CERTIFICATE OF COMPLIANCE
The Department of Economic and Community Development (DECD) has launched the Pledge to Protect ME, a digital version of the Certificate of Compliance currently required for guests staying at Maine lodging properties.
A link to this new online Certificate of Compliance option is now available on the VisitMaine.com Travel With Care page.
The Pledge to Protect ME will allow visitors to easily fill out the Certificate of Compliance form online and receive a confirmation via email for their next visit to Maine.  Visitors will also have the option to go one step further before and during their travels to Maine and enroll in the GetWell Loop, a proactive tool to self-monitor for COVID-19 symptoms.
Lodging establishments may choose to provide a link to the online Pledge to Protect ME (https://www.pledgeport.app/) within their reservation confirmation email messaging instead of the .pdf form of the Certificate of Compliance currently provided.  A FAQ with more details for lodging reservation and front desk staff is posted at MOTPartners.com.
Lodging establishments that wish to have their reservation email auto-filled into the Pledge to Protect ME form please contact Chiara Moriconi at Chiara.Moriconi@maine.gov.
Get Tested:

For the latest news and information from the Maine Department of Labor:

For the most current information from the U.S. Department of Labor:

For the most current information from CDC.gov:

For the most current information from SBA:
SBA and Treasury Announce Simpler PPP Forgiveness for Loans of $50,000 or Less- October 9, 2020
WASHINGTON-The U.S. Small Business Administration, in consultation with the Treasury Department, today released a simpler loan forgiveness application for  Paycheck Protection Program (PPP) loans of $50,000 or less. This action streamlines the PPP forgiveness process to provide financial and administrative relief to America's smallest businesses while also ensuring sound stewardship of taxpayer dollars.  CLICK HERE TO CONTINUE
Quick Links